All students must sign up and pay for class in order to reserve your spot!
---
BERNINA Feet of the Month


April 20th (1 opening)
NEW Section added May 15th
Ruler For Rookies


10-2:30 Bring lunch/snack

Kit $125
Kit must be purchased at Sew This!
Class Free
Educator Cody

This is a great way to get started ruler work quilting, the kit

includes just about everything you need to get started. Cody is going to go step by step on quilting this great panel that come with the kit. The beauty of the kit is it includes videos that also go step by step on quilting the panel.

Kit includes; This is a great set for beginners whether on a domestic machine or longarm. It comes with an informational booklet, a fabric panel to stitch along with, and 5 rulers/templates. ProMini™, ProCircle™ 5, ProEcho™ 10, ProLine™2 and the ProPebble™ 1/2 - 1 1/2

Extra Supplies needed;
1 fat quarter for backing, fat quarter sized batting of your choice, Handi Grip to keep rulers from sliding, thread of your choice (i used a light to medium Isacord), and quilting gloves can never hurt. All supplies can be found here at Sew This!
---
April 25th (Full)

May 11th and 24th openings

Cody's Comprehensive Foot Class #2
10:15-1:30
$20 Kit & Class Fee
Educator Cody


This is the Second Class Starting with Foot #8

Come join Cody in this Comprehensive BERNINA Foot Class! This is going to be a series of classes going over all of the BERNINA feet and accessories starting with the #1 Foot. Each class will cover about 7-9 different feet (each class will vary). Be prepared to learn something new :)

Only Supplies needed is a notebook, pen, and The Big Book of feet if you have it by BERNINA, and B475 Machines will be supplied.
---
April 26th
Kimberbell Club
Sweet Feet Rain boots
$25 includes fabric kit and designs
10:15 - 1:15
Teacher Denise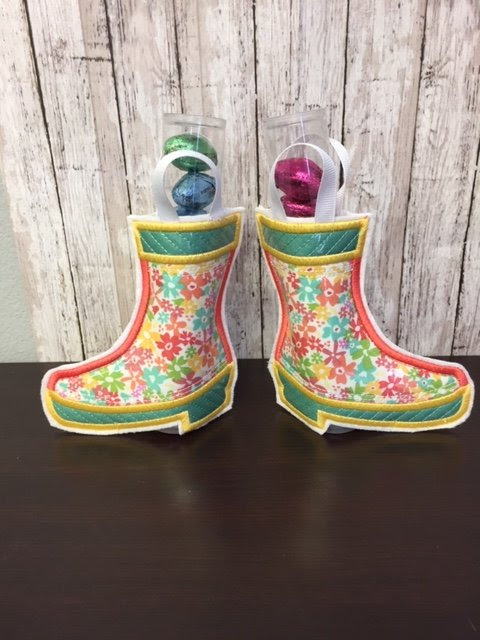 When life gives you rainy days, why not wear cute boots and jump in the puddles? Or, just stay inside and stitch a pair of darling rain boots on your embroidery machine. A layer of vinyl makes happy cotton prints appear lie real rubber boots. Kimberbell's Medium Sweet Tube slips inside each boot with darling ribbon straps. To encourage a friend who is weathering the storms of life.
Facebook and Instagram #kimberbelldesigns
Kit does not include tubes!

supplies: threads (5230 teal, 970 off-white, 1521 coral, 0713 yellow), Tearaway stabilizer, 5" x 7" hoop
---
April 27th
Kimberbell Rain boots Saturday Demo
10:30 - 11:00
$5.00
Teacher Denise

Come in on this Saturday and see the demo on this months Kimberbell Club and receive the design.
---
May 3rd, 10th, 25th, and 31st
Make Yourself at Home
Embroidery Quilt
10:15-3:00


Denise has been hard at work on this beautiful quilt, for those of you who were able to get their hands on the first set of quilt kits come join us on those days to work on you quilt. For those of you who have other embroidery projects you need to work on feel free to come and join the fun on these three days. Bring your projects and lets make a day out of it.

Kimberbell's all-new decorative quilt features a cheerful assortment of applique and embroidered blocks including homes of all shapes and sizes, a cozy couch, sofa, and loveseat, floor lamps, chenille potted plants, and sweet sentiments. You'll learn fun embroidery techniques and enjoy traditional piecing with each block. With over more than 20 embroidered blocks you can choose between eight embroidered houses—from your first apartment building, to a two-story in the suburbs, then grandpa and grandma's farmhouse, even a retro RV.
Traditional quilt blocks include pinwheels, a large windmill star, flying geese, plus stars to frame the embroidered sentiment blocks.
Pieced picture blocks include the tall floor lamp, sofa, and apartment building.
Delight in every detail like polka-dot glitter lamp shades with fringe borders, chenille succulent stems, and ribbon flowers. Flexi foam add soft dimension to the couch cushions. Mylar and vinyl brighten the lampposts and house windows. Use twine for the lamp pulls and to string the quilted pennants together. Sew the darling adornments too like the miniature quilt and bench pillows you'll find in the companion embellishment kit. Finished size: 44 x 60″
---
May 4th, 8th
Quilting Therapy
10:15-1:15
$20.00 Class fee and Kit
Educator Cody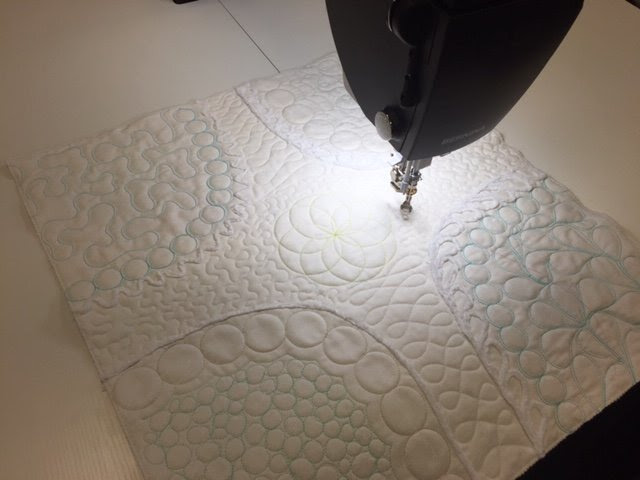 Quilting with the BERNINA Q20. Come discover the wonders of quilting your own quilt on the fully stitch regulated BERNINA Q20. We will be Quilting with twin needles, chenille couching, a few different rulers and more. All of which will have beautiful stitches effortlessly with the built-in dual stitch regulators. Come join the fun. seating for six.

Special Saving on the the BERNINA Q Series if your interested during this time!
---
May 17th - 18th
Kimberbell's
Sewin' with my Gnomies
10:00 - 4:00
Bring Lunch
$149
Taking Deposit

Teacher Denise


A new two-day event with a sewing and garden theme! This event features Kimberbell Blanks: polka dot tea towel, buffalo check tote, and rectangle pillow form, plus darling scissors and tape measure. You will learn new techniques like over-the-edge appliqué and more! It's a cheery celebration, sewing with friends, and Kimberbell.

Make sure to bring your machine, Sew This toolboxes will be at each station so no need to bring your sewing room with you, just your machine and LUNCH!!!
---
May 30th , June 1st
Hummingbird Paper Piecing
10:15 -2:00
$25.00
Educator Cody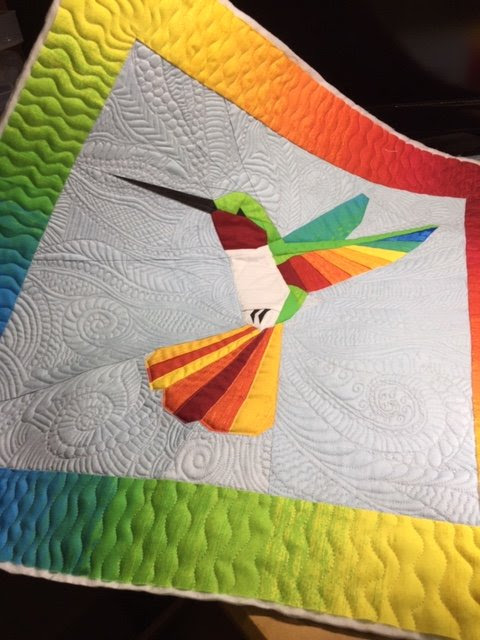 This is such a cute project and a great confident beginner paper piecing project. Some basic knowledge of paper piecing is required for the class.

Supplies needed and prep before class

ALL pattern pieces MUST BE COPIED on foundation paper BEFORE CLASS
Supply List!
---
June 7th and 14th
Part 1 and 2
10:15 - 3:00
bring Lunch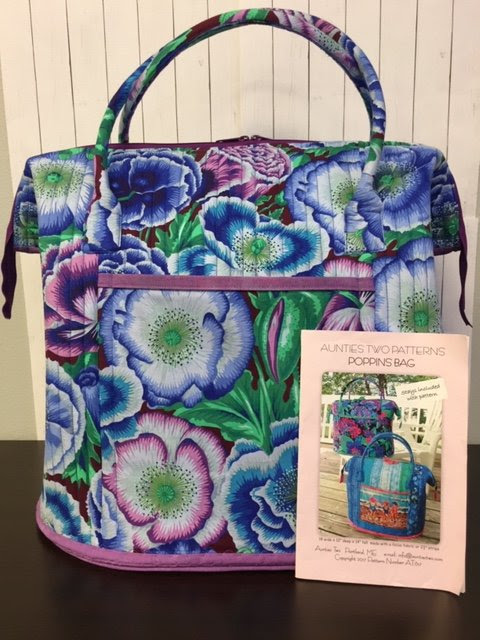 Poppins Bag
Free Class with purchase of (fabric, hardware and pattern from Sew This)
otherwise $30 Class Fee

Large zipper top bag great for all of your magical stuff! Two pockets on the outside and inside keep everything organized. Structural stays keep it in shape. Use a focus fabric and channel stitch the body of the bag. Pattern includes 2 stainless steel metal stays.


---
Class Policy
---
Happy Sewing!
Your Sew This! Staff
---

We also have 12 months financing available all year long, so pay for your BERNINA with time.




Check out these beautifully Digitized Designs